Vinum Cellars Wine Kegs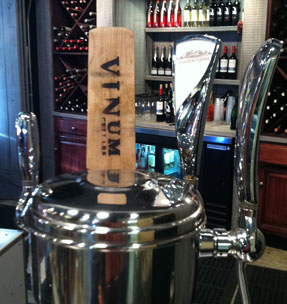 Vinum Cellars has appointed FreeFlow Wines as its official Keg fulfillment resource fo Vinum Cellars wines. Their role will be to supply the kegs, fill and pick up empty kegs at our distributor's warehouses. They will also provide expertise in terms of tap installations and system advice through Wine Tap Alliance @ 1-855-KEGWINE.
Ordering Process:
Place a discrete PO the same as you would for case goods. The kegs will be picked up at FreeFlow Wines, FOB Sonoma, California. FreeFlow Wines will track the kegs and arrangefor pick up of all empty kegs at each distributor's warehouse nationally.
FreeFlow Wines: 21684 Eight Street East, suite 600, Sonoma, CA 95476.
---
5 WINES AVAILABLE PRESENTLY:
2013 Chardonnay, Monterey
2013 White Elephant, California
2013 Pinot Noir, Monterey
2012 Petite Sirah, Clarksburg
2012 Red Dirt Red, Paso Robles
---
Tap Handles: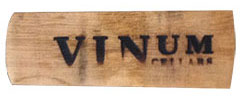 Our handles are available in Stamped barrel wood. Contact Richard Bruno: richard@vinumcellars.com
Also, Branding on Demand Tap Handles are available at BeverageFactory.com Flexible, cost-effective and user-friendly BOD tap handles make marketing simple.
Download artwork for BOD Tap Handles, print in color, cut out and insert. Please print PDF files at actual size - no page scaling......

2014 Chardonnay, Monterey

2014 Chenin Blanc, Clarksburg

2014 Pinot Noir, Monterey

2014 Petite Sirah, Clarksburg

2013 Red Dirt Red, Paso Robles

2013 The Insider, Cabernet Sauvignon