Growers and Vineyards
Vinum Cellars is a California Brand, we have long term contracts with grape growers all over California. We search the best areas for the specific varieties, and the fruit is grown to our specifications. We source our fruit form the following appellations:
Clarksburg
El Dorado County
Napa Valley, Calistoga
---
Clarksburg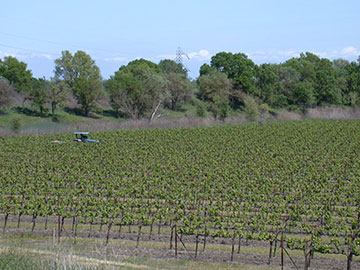 Clarksburg is a special North Sacramento Delta wine grape appellation, although the soils are generally clay loam, the location of these vineyards is situated near the Sierra Mountains where it receives cool afternoon breezes that moderate the warm daytime temperatures. Our chenin blanc is grown by maximizing sunlight into the canopy, while this cooling trend helps to preserve natural acidity. Long hang time is how we are able to get our Petite Sirah rich, extracted and inky black.
Wilson Farms is a 3rd generation family farming operation that began in the early 1920's. Wilson Farms was strictly a row crop operation until 1971 when the first 15 acres of Zinfandel grapes were planted. Eventually 32 acres of Chenin Blanc were planted in 1978. Today they grow over 750 acres of white and red grapes in the Clarksburg Appellation on the Sacramento River, known as District 17. Their Chenin Blanc acreage has grown to over 110 acres supplying 600-750 tons of fruit to six north coast wineries, including Vinum Cellars. Of the 110 acres of Chenin Blanc, 30 acres were planted to keep up with the increased demand and has yet to come into production. Clarksburg is the ideal climate for Chenin Blanc due to the warm days and the cool evenings, from the marine influences of the Sacramento River and its tributaries. During the springtime, they are busy leaf-pulling which allows air movement through the canopy, increasing fruit character. Fruit and shoot removal are part of their cultural practice to enhance the quality and desired character foreach individual winemaker. Wilson Farms also grows other white grapes that include Chardonnay, Sauvignon Blanc, Symphony, Viognier, Roussanne and rich, full bodied reds such as Petite Sirah, Merlot and Cabernet Sauvignon.
---
El Dorado County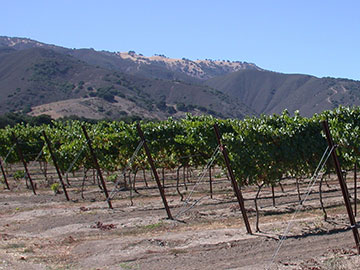 "The Goldbud Philosophy"
The main feature of our El Dorado Vineyards is the high elevation, mountain fruit. The soils are volcanic red with good drainage and are farmed by Ron Mansfield, who has a degree from our Alma Matter UC Davis in Renewable Agriculture. He is a "sunlight into the canopy" guru owns and operates the very successful Goldenbud Farms - a fresh market produce company. Ron knows how to grow fruit, but most importantly when it's ripe! Our fruit is always delivered as cosmetically stunning as the fruit is expressive. Our Red Dirt Red is our shout out to Chateauneuf du Pape, while our Cabernet Franc a salute to Chinon.
---
Napa Valley Calistoga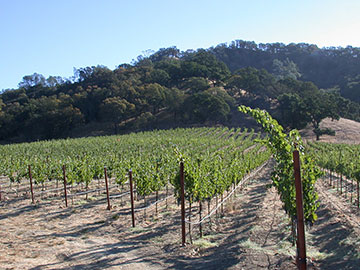 "The Goldbud Philosophy"
Calistoga is the Northern most Napa Valley appellation and is synonymous with World class Cabernet Sauvignon. Jim Frediani is a 3rd generation Italian grower and has probably forgotten more about growing grapes then most people know. Our cabernet comes from dry-farmed, old vines which express flavorful red fruit and powerful tannins. To make the red wine super concentrated, we remove some of the pink juice in the early stages after crushing. We then ferment this portion cold (like white wine) to make our groovy Rosé - It's Okay!